While making turkey soup a few days ago, I plucked off some celery stalks and a wee green caterpillar tumbled to the counter. I thought it would be dead, given the time in the fridge, but I touched it with a celery leaf and it drew up into itself like a roly poly. Alive. What now?
My Twitter peeps knew: jar, more celery, a stick. Caterpillar Watch began. And is ongoing; this morning, I came to my desk to find the caterpillar had moved to the stick and was growing fuzzy. Did this mean a cocoon was eminent? A little while later, the stick was abandoned, for a better base on the cauliflower leaf was discovered.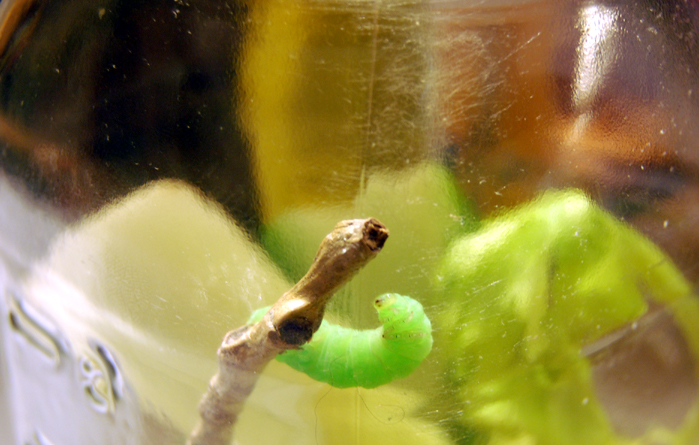 "Begin as you mean to go on" is something Charles H. Spurgeon wrote in 1885 or thereabouts. It's a solid idea; if you never start, you'll never continue. So my January 1st is being spent sending stories out into the world. This is what I do. I've also already gotten the first rejection of the year — editors already hard at their own work.
I don't make resolutions so much as I make goals for the coming year. Here are a few:
Finish my circus novella
This is nearly done, I am pleased to say. It began as 2012's Nanowrimo novel, but wasn't showing itself to have quite that much story in it. The story tells some of the background of Jackson, he who leads a circus train through a world stranger than our own.
Finish the Anubis 3 draft
This was my 2013 Nanowrimo novel! I wrote this book in a way I haven't written a book before: I had a complete outline. Being that I had four story threads to keep track of, I also charted this thread progress/balance with a color-coded spreadsheet. That is a technique I'll be going to back to, and may talk about more on this blog.
Write the next thing
And hopefully, with the next thing, generate some interest from an agent. 2014 is shaping up to be the year I do a lot of scary things and this leads the list.
Move, move, move
Soon, back to the gym with regularity, running those 5ks I love so well, and lifting all the iron. I like being strong. Being strong lets me Do All The Things.
Even if those things go unnoticed by and large.
As I write this, the caterpillar continues its work. Most of that work is largely invisible at this point; the caterpillar makes pass after pass over the leaf, waving its small green body into the air, and there's not much to show for it. However, if you tilt the jar into the light, you can see the barely-there gossamer strands that will turn into a cocoon. The caterpillar works and works, and then works a little more.
Let's do this, 2014.