"Write what you know" is crap. If I only wrote what I knew for certain, I'd surely never write about outer space or time-traveling trains. But, writing things you don't know can remain vaguely terrifying, even when you have researched, plotted, and spoken with people who know what you don't.
As of this writing, I've sold eighty-eight short stories and two novels and sometimes I still don't know anything (Jon Snow). Sometimes, the idea of tossing a story out into the world remains intimidating, not because you don't believe in it, but because you believe in it so much, you're worried you haven't done the idea proper justice. I don't know anything about being a person who feels they are occupied by both masculine and feminine spirits, and yet, here arrived this story.
My early notes on "Splitskin" say:
Yukon / Klondike
Drag queens
Snow on train tracks
The gold rush
Silver Sisters (Liminal)
Polar bears
lovers parted
circus men in love?
Eagles? Sirens?
dig up a dragon — no, thunderbirds
Native American myths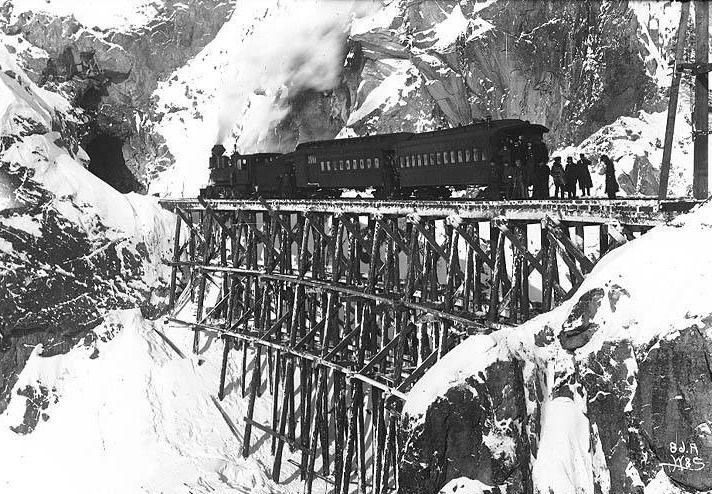 The first thing I knew was, I wanted to write about my circus train in winter (getting a train stuck in an avalanche? frozen and stuck to the tracks? Have i watched to much Horror Express? Nevah!)
In my current circus time frame where might be more "winter" than the Yukon? Why would trains go to the Yukon? Did they go there? Of course they did — they carried men who meant to mine the gold from the hills until the hills fell down.
But Elise — you said drag queens and you're only talking about snow and trains and gold.
My reading about trains and snow and gold and the Yukon took me into reading about local populations — who lived where and when, and I came across the idea of a two-spirit person. A person who was thought to contain both a masculine and a feminine spirit. Oh? Tell me more, world! Such people were revered, consulted, and documented among more than 130 groups.
"Two-spirited" or "two-spirit" usually indicates a Native person who feels their body simultaneously manifests both a masculine and a feminine spirit, or a different balance of masculine and feminine characteristics than usually seen in masculine men and feminine women.
At this point, characters started talking to me. I found the Lingit (Tlingit), the People of the Tides, who believed in divisions between light (water) and dark (forest), how the water was known, safe, reliable, and how the forest was filled with hidden forces, was dark even in summer's bright, and well, also contained bears. I read about raven spirits and bear spirits, and eagles, and thunderbirds. Matrilineal societies, long hidden, at last unearthed!
I knew nothing, Jon Snow. Nothing! I'd never written a story about such a people, where did I even begin? Well, of course I began where I begin with anything — I started in my character's heart and listened while they talked. What they told me wasn't like anything I'd written down before, but I wrote down every word. My narrator is someone who inhabits a male body that also contains a feminine spirit; my narrator finds power in both manifestations, had power within the circles of their own society, even as the broader world had no good idea what to think of them.
We know what to think — here's a person with one hell of a story to tell. I hope I did it justice.
"Splitskin" is part of Ceaseless West, a Weird West anthology from Beneath Ceaseless Skies, and will also be published on the site on April 30th. You can also see some of my inspirations over on my pinboard.