Just when you think it's stopped raining, there comes more rain. Just what Colorado doesn't need! I was going to donate to the Strange Horizons fundraiser, but instead went over to HelpColoradoNow.com, because my state is such a mess after historical floods and oil spills. It's still unbelievable.
But there are other doings, yes. Let me round them up!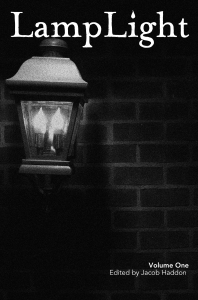 Lamplight Vol. 1 contains my story "By the Book." This 450-page volume gathers up everything from Lamplight's first year, and I'm pleased as heck to be a part of it, even if its editor keeps tormenting delighting me with Daft Punk links.
Dead North arrives on October 1st–that link will let you pre-order from Amazon. This contains my story "The Sea Half-Held By Night," a historical piece about whaling, and Red Bay, and zombies, and crawling inside a thing with the hopes of vanishing.
Tangent Online reviewed Tales of Jack the Ripper and while they didn't love my contribution, they found plenty to like otherwise!
Shimmer #17 has arrived, and this is the largest non-themed issue we have produced thus far. I am super excited to finally share it with you. We have such a great lineup of authors in this one. Seventeen authors, in fact! I hope you'll visit the Shimmer blog in this week, because I've got bonus content with some of those authors, and more yet to come.
In the future: I will have a story in The Mammoth Book of Gaslit Romance, and Ellen Datlow announced that The Beastly Bride sold to a Russian publisher, so that will be my first foreign translation. and coming in December, I'm proud to say I will have a story in issue #2 of The Dark, a new magazine from Jack Fisher and Sean Wallace. Based on their choices so far, this magazine should do something that no other presently does–and that's exciting! "Wrought Out From Within Upon the Flesh" is also like nothing else I've written, despite the fact that it takes place in my traveling circus universe. Sword & Mythos also remains on the horizon–Joan of Arc riding a mammoth, anyone? Yes. Oh, yes.