Last week, honeycrisp apples were cheap and I knew I'd come away with more apples than any one human should try to consume. What in the world could I do with all of them? My friend Jen said "oh hey, hand pies," which led to terrifying search results — including a gorgeous monstrosity called slab pie and wow, I didn't need that much pie (this time), so hand pies it was!
When I'm making pie, step one for me is always the crust that has never failed me, Smitten Kitchen's All Butter, Really Flaky Pie Dough. I use this dough for sweet and savory pies both. It is gorgeous and perfect. If you've never made your own dough, I encourage you to try this recipe, as it was my first, and held my hand every step of the way.
I pretty much improvised with these hand pies, taking what I knew of big-pie and making it smaller. The only step I went out onto a ledge with is when it came to freezing half the pies I made. I'm certain they'll be fine, but time shall tell! (This recipe made 16 pies, but I had both pastry and apples leftover — I think I could have gotten 20, had I taken the time to re-roll my dough. By that point, reader, I was tired of rolling.)
You will need:
1 recipe of Smitten Kitchen's all-butter crust
4 good sized apples, about 4 cups diced
1 lemon
1 tsp. all spice
1 tsp. nutmeg
sprinkle of cloves
sprinkle of salt
1/2 cup sugar
1 tbsp. flour
1 egg
Preheat your oven to 400.
Step one, peel and core your apples. I have a hand-crank that will core, peel, and slice all in one go, but I didn't want to haul it out. Make sure your apples are all about the same size, so they'll all cook the same. (Also, based on Jen's advice, I tossed my peels and cores into a one part water, one part sugar mix and let them bubble over low heat while I worked — apple simple syrup. We'll return to this idea later.)
Add the lemon juice to your sliced apples and stir. Add sugar and spices, and stir again. As I reflect on this recipe now, I might also add the zest of the lemon; and if you want even more lemon punch, take the time to mix the zest in with your sugar only. Mix them together with your fingers until the sugar is positively lemontastic, then add to apples and spices.
Once your apples are spiced up, take one of your dough rounds from the fridge. Even if you're using store-bought, get that dough out! Roll on a floured board until it's about 1/4 of an inch thick. Then, cut circles! You can do this with a biscuit cutter if you have one — I don't. I used a glass, and it worked just fine. I got four, and I bundled up my scraps to get another four.
Then, you're going to take each circle and roll it out, into a tiny round!
Try to keep those circles even; turn your dough often! Once you have a round done, it's time to fill and crimp. Be mindful of your filling — too much and your pie will burst.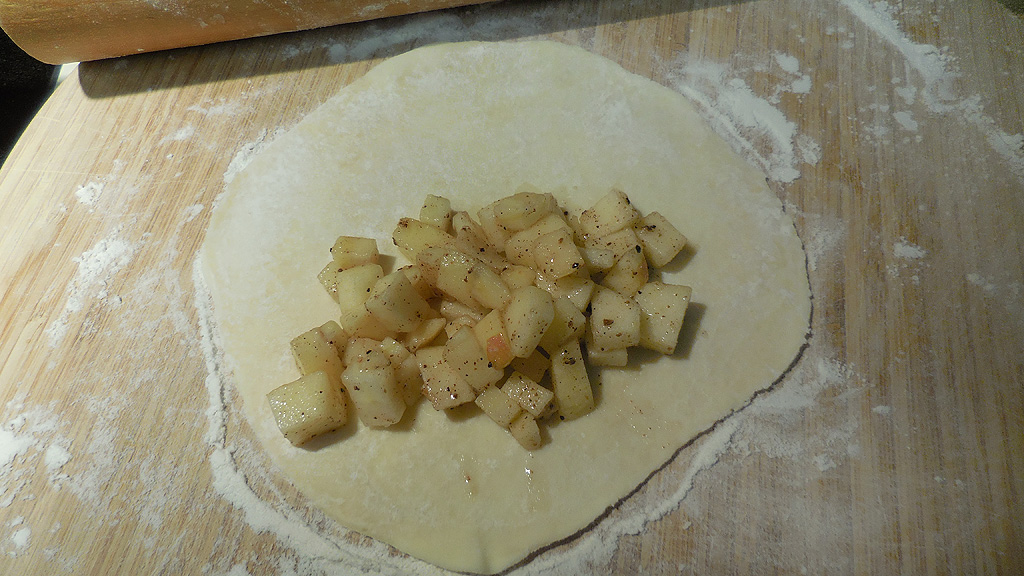 Next step: fold the dough over toward you so you have a half moon shape. You can absolutely seal the dough with egg wash (or water) if you want, but I did not and it worked fine, because I pressed the edges together with a fork. I do like a pretty pie. You do not need to cut vents into them, but you can if you like.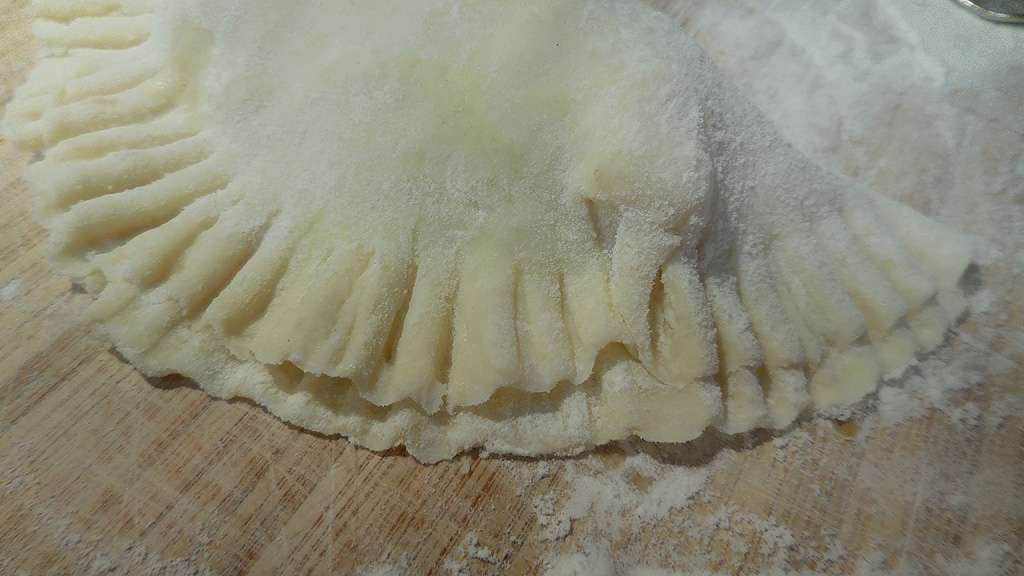 I would recommend parchment paper on your sheet pan, or a silicon mat, to prevent sticking. I have the latter, so that's what I used.
When your pies are filled, crimped, and all lain out, it's time for egg wash! Crack your egg and whisk it up with a smidgen of water. Alternate plan: you could also wash these with the lovely apple simple syrup that should be nearly done…yes. Syrup is going to brown differently than egg, though, so you might want to give them an extra peek during cooking if you go that route. If you go with egg wash, you can sprinkle the tops with granulated sugar (or cinnamon sugar) if you want a little extra treat.
I baked these at 400, for 25 minutes (I checked them at 20, and they weren't browned enough for my liking). Out of the oven, they're going to be super hot, so if you dive in (the way I did), remember you've got hot apples and sugar there.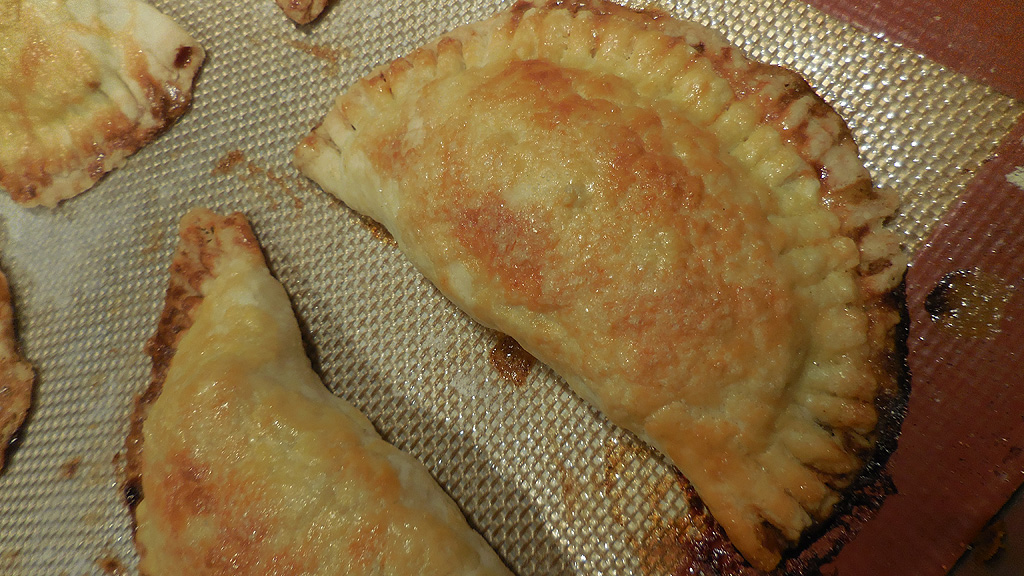 Easy additions: nuts and more fruit. These would be wonderful with pecans or cranberries. You could probably also replace your lemon juice with a little booze if you wanted. These would be delightful with a scoop of ice cream, or a drizzle of salted caramel. A squiggle of Nutella? There are tons of ways to dress them up.
Or, eat them naked. Whichever.