Octobler is coming to a close, gracious sakes. It's probably tied with July for my favorite month, really. November is also pretty great, and I've got some spooky things yet to read in that month — but let's see what I conquered in Octobler:
Picking up where I ended in September, I stayed with westerns, and dug into Vengeance Road, by Erin Bowman. Very related to Rae Carson's To Walk the Earth a Stranger, but VR is not speculative fiction — it's a straight up western, which was a fun change of pace. As a kid, I loved Louis L'Amour books and this took me back. Heroine Kate disguises herself as a boy (I will never tire of this trope, I think), to right some serious wrongs; a revenge story, a love story, a story that ties into actual history, with the Lost Dutchman mine. Great stuff. I really loved everything about this book, including the wonderful Liluye. I wish Kate and her bunch had been kinder to her, but recognize that's a tricky point, because whites of that time were probably not half so gracious to Native Americans. We always want our heroines to be perfect and I can allow that Kate is not and it makes for a great book. And that cover–did we mention that cover? Holy cats.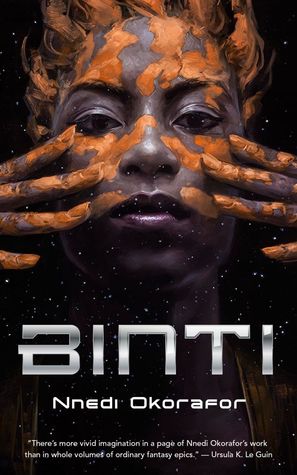 The next book I grabbed was Binti, by Nnedi Okorafor. This is an entry in the Tor novella program, and it's an excessively short novella indeed. That's my main complaint with it; I like my novellas to feel a bit deeper than this, so even though Binti was an amazing character, and this world equally so, I wanted more. (Gluttony is probably my favorite sin, yes.) In Binti, we get a school set in outer space, and Our Heroine is the first of her people to attend this school. I want to call it Harry Potter in Space, but this world feels somehow bigger than even that, despite its short length. Binti has an amazing adventure that will change her life — and pretty much the lives of everyone she comes in contact with.
Speaking of amazing adventures…
I heard about the gender-flipped version of Twilight by Stephenie Meyer, and thought hey, maybe that's how I'll finally read Twilight — because I tried when it first came out and nope, couldn't do. When I peeked at Life and Death, I had the same initial reaction, and then Beth sent me a copy of it, and well. WELL.
Reading this book was like time travel. It was like kissing PW for the first time in the falling snow outside school and feeling like my spine had been struck by lightning because whoa do French people really kiss like this let's be French forever. Meyer has the ability to perfectly capture what first love is; what teen love is; what it's like when you can't omg be with that person every second. And in that way, this book is a huge success. It's packaged with the original, which I may yet visit. I can't speak to how well the gender flip works, or doesn't — but on its own, Life and Death is a great vehicle in which to remember being young and in love. It's no wonder teens love it so.
Thanks to my library, I got a copy of Fangirl by Rainbow Rowell. This was a strange reading experience for me, because I used to be that girl; fanfic is where I got my start, I know what it's like to have readers demanding more of a well-beloved piece of fiction when your heart starts to go out of it. In some ways, this book was a little too meta for me — too on the nose, maybe, especially with the excerpts of books and fanfics included. (When I learned about Carry On, I absolutely groaned and probably won't read it — it's the novelization of the fandom that Cath writes about in Fangirl. And if that's not too meta…I'm not sure what is.) As with Twilight, it's no wonder Rowell has a solid audience; I think in my 20s (when I was still That Girl), I would have been over the moon for this.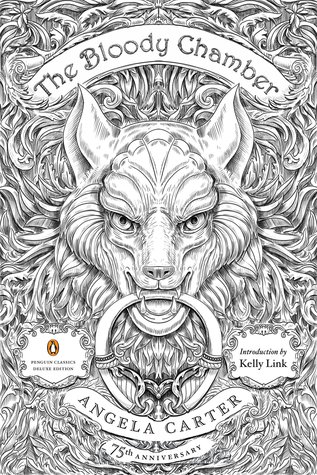 There are strange gaps in my reading knowledge and history — as is the case with Angela Carter. If you had asked me two months ago if I'd read her, I would have said yes without hesitation. But upon actually reading her, I realized nope, Angela Carter was always confused in my head with Shirley Jackson. The Bloody Chamber serves as my introduction to Ms. Carter, and I'm as shocked about it as you are!
The volume is a collection of retold fairy tales and I'm hard-pressed to pick a favorite because they're all fairly wonderful. Carter has an amazing way with words — it's so lush it feels like poetry at times, which means it's terribly inspiring for me, since poetry helps unlock a certain part of my writerly brain. I'm mad for this edition, too — it has French flaps and a deckled edge and oh my god, it's gorgeous.
Molly Tanzer's The Pleasure Merchant is out in November, have you pre-ordered it yet? Tanzer continually impresses me with her work, because it doesn't seem to matter WHAT genre the girl is writing in, she gets it done. She has this way of a pulling a reader in and not letting them go. Everything, no matter how fantastic, is believable, because she crafts her worlds so perfectly. Wild West? No problem. 18th century London? ON IT.
The Pleasure Merchant involves Tom, who wants only to make some beautiful wigs. It's his calling! He wants his own shop and wants to be married, so of course his life takes a tragic turn. His most amazing creation to date is used against him and Tom finds himself outcast and unemployed, and has no good idea what to do. Thank goodness for libertines, am I right? Tom isn't very likable, but the prose sure is, so the story carries you surely along, because that's what Tanzer does. She won't let you go, even if you aren't feeling very warm to the main character; you probably love the narrator and it's their voice that carries you along and then bam it's over and you're weeping and laughing and well. You should buy this book, like right now. Wait — one more review here, then go.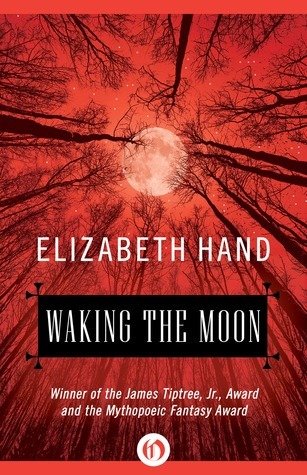 Last month, we sank back into our Elizabeth Hand addiction; this month, we tackled Waking the Moon. Holy shit, people! This book.
"The reign of men has ended!" the description proclaims, and well, it's not entirely wrong, but it's a little purple for my liking. This certainly is, however, a book about women coming into their own power. It's witchy, it's Gothic, it's haunting. If you wished Wylding Hall was a little more blood-soaked, this is the book for you. As it also involves archaeology, I am uh — over the moon for Waking the Moon.
Hand's writing has a kind of poetry to it. I take it in small chunks, like it's loose tea — a pot at a time, to get warm, and comforted (by blood?! Well, yeah.), and inspired. I'm about 75% through this one — I bet I finish it this weekend (Halloween weekend — as is only proper).
My contributor copies of She Walks in Shadows also arrived, and they're beautiful. Would you like to win a copy of the ebook (epub or mobi)? Leave a comment here. I'll pick a winner next week, as a thank you for you coming by and reading this far. Thank you, thank you.