Eligibility is a ridiculous word.
In any case, it's that time of the year–somehow–where we tally up everything we have published and say oh my god please find this worthy and put this on a ballot so I will be remembered and not forgotten in the long dark stretch of years to come. And well, it's 2020, so. You know.
In June, Apex Book Company published my first collection, a collection of stories from my circus universe. The Grand Tour collects (hey, Elise, is it a collection??) nine stories and takes you on a whirlwind tour (hey) of space and time and love and heartbreak and you know, stuff. I am unreasonably attached to the whole thing, and can't quite believe I've got a collection (hm) out in the world. I've wanted one for so long. It's also a beautiful book; Apex spoiled me. Each story has a beautiful illustration.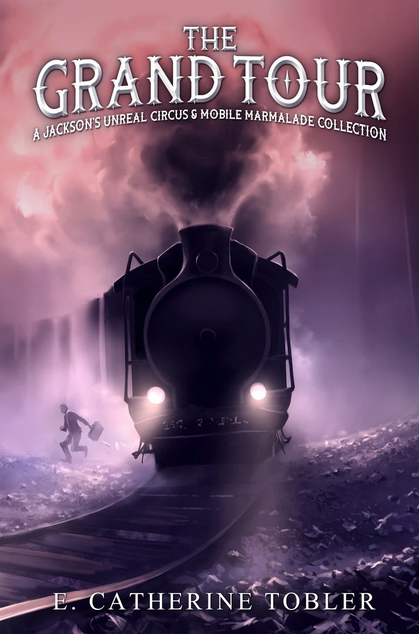 Also in June, Three-Lobed Burning Eye published my story, "True In His Fashion." Gay vampires but make it FASHION. Immortal men make clothing throughout the ages, searching for a thing that is missing, but never entirely lost. I love this story, and it took many, many years for it to find its proper home. I sat and cried when Andrew told me he was buying it.
Inside all was dark, the inside of an egg, perfectly sealed. The woman held me firm, by arm and throat both, and while I glimpsed her eyes in the darkness—crimson the way a summer berry may be—it was the froth of fabric around her throat which took my breath and rendered me unable to struggle.

The figure-eight folds of lace were flawlessly white; no dye, no colored starch. At each crest, a ruby gleamed. In each valley, seed pearls pooled. The pearls seemed to hover above her still chest, while the rubies drew in just enough of the day's light to illuminate her jaw with a faint blush her own body would never manufacture.
In July, The Great Isolation: Colorado Creativity in the Time of the Pandemic contained my short story, "This Is Not a Love Song." The story won second place in a contest from Western University. Colorado residents could submit work for said contest, to focus on isolation in the time of…the pandemic, hmm. I wrote this when I was broken-hearted, which you could say about almost all of my work.
You, recurring image.

You skitter across and through everything I love, everything I do. Though you have gone, you remain, and I remain, and so I watch (waiting is weakness, they say, and they are wrong). I stare at the sunlit shadows moving across the walls and you–and you.

You in shadow and you in sun. Barefoot and long-shadowed in summer. So tall you brought me bouquets of clouds–altocumulus stratiformis duplicatus, noctilucent, stratospheric nacreous. Wrapped tight and hunched in winter–
In Octobler (that's right), Vernacular Books published the Evil in Technicolor anthology, which includes my story, "Blue Hole, Red Sea." It is a terrifying deep dive into a hole in the floor of the ocean, opening into treasures and horrors untold.
The new sea was warmer, saltier. The water was like silk across her skin—bare skin, her wetsuit stripped away as if it had never existed. The salt water buoyed her up and up, as if she were in a balloon, and when she surfaced, it was an unfamiliar landscape that greeted her. She knew she was beneath the Mediterranean, safely wrapped in diving gear, and yet her eyes told her otherwise, for the land rose and fell in sandy, caramel hues everywhere. The sea around her was perfectly still, not shot through with fish. Before her in the sea spread a great darkness, a hole that bored into the water itself and vanished. And beneath the water, a whisper. A word she could not quite make out.
When editor Joe M. McDermott invited me to the project, I was wishy-washy. I was in a bad spot. Writing, was that a thing I even did any more? The anthology was also meant to help out writers who were struggling during the COVID-19 pandemic–was that me? Well, my day job is absolutely still on hold, so yes. I remain grateful for the invitation, because this story was a lot of fun to write. Even if editors have told me I don't write horror.
The last thing I will probably see published this year is "The Witch and the Werewolf," which is utterly contrary to everything I usually write. It's an absolutely sweet Christmas romance between a witch and a werewolf (you don't say). She's Riz, he's Bean, and together, they solve mysteries! Who doesn't love some rice and beans. Happy Howlidays is an anthology from Paramour Ink, containing stories set in the same small Vermont town. Come to Bones Hollow this holiday season! My thanks to Lex Hunter for inviting me.
And I think that's all she wrote. Sorry. I had to. It's 2020.
P.S. Someone said I should mention that I drafted a new novel this year. I did, it's not wrong. It was the first book I've written since Folley/Mallory, so it took some brain power. Now, the agent search begins. Again. Fingers crossed. Again.