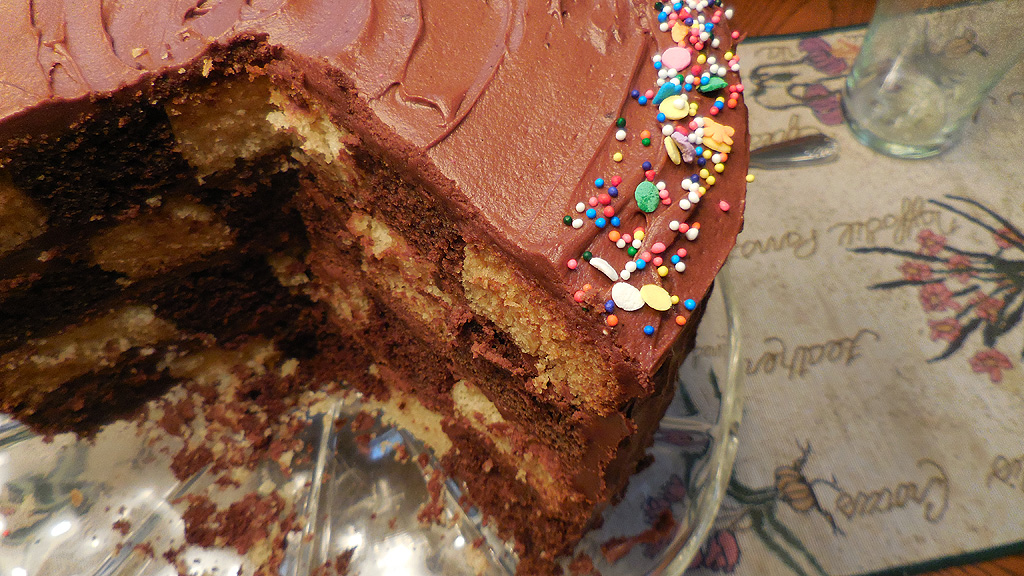 Things checkerboard remind me of Wonderland — and I've always wanted to make a checkerboard cake, but much like basket weave frosting, I felt it was beyond me, because wow, how does that even work. The thing is, once you learn, it's super easy. Maybe it's like pulling the curtain back on a magician, but that's okay. If you want to easily checkerboard a cake, here's how. You don't even need a special pan.
For best results, you're going to want contrasting cake layers. Of course it doesn't have to be chocolate and vanilla; you could easily color your layers, or mix your flavors up. Vanilla and strawberry? Chocolate and orange?
My go-to cake recipe comes from Smitten Kitchen, Best Birthday Cake, but you can make it even easier and use a box mix. If you must. Don't tell me, but it's okay. (For my layers above, I did the Smitten recipe, divided the vanilla in half, and added 1/4 cup of cocoa for my chocolate layer, and an extra wee dribble of milk to smooth it out.)
Once you have baked layers, allow them cool entirely. I went a step further and baked my layers the day before I actually needed the cake, allowing them to chill overnight in the fridge. Cold cake is easier to cut.
You are going to cut your layers in two, straight across their middles, so you end up with two vanilla layers and two chocolate layers.
For best results, use a long serrated (bread) knife. They say you can use unflavored dental floss, but I've never had good luck with this method. I also even out my cake tops, cutting off anything that has domed up. Flat cake is what we're after.
Next, checkerboard.
BUT HOW, they cried.
This is the secret. You can get a special pan and pipe your batter in, but that sounds horrible to me. I'd much rather cut my baked cake, because it's easier to deal with a solid than a liquid. (Cake science.) You can use biscuit/cookie cutters, or anything that's round — I used a smaller cake pan, and a cookie cutter, cutting around both with a sharp paring knife.
Note: when you cut your layers, they're going to be more fragile, and they will also be crumbly. Crumbs can easily be swept away with any kind of kitchen brush; I use a silicon basting brush.
Once cut, stack your layers in your alternating colors!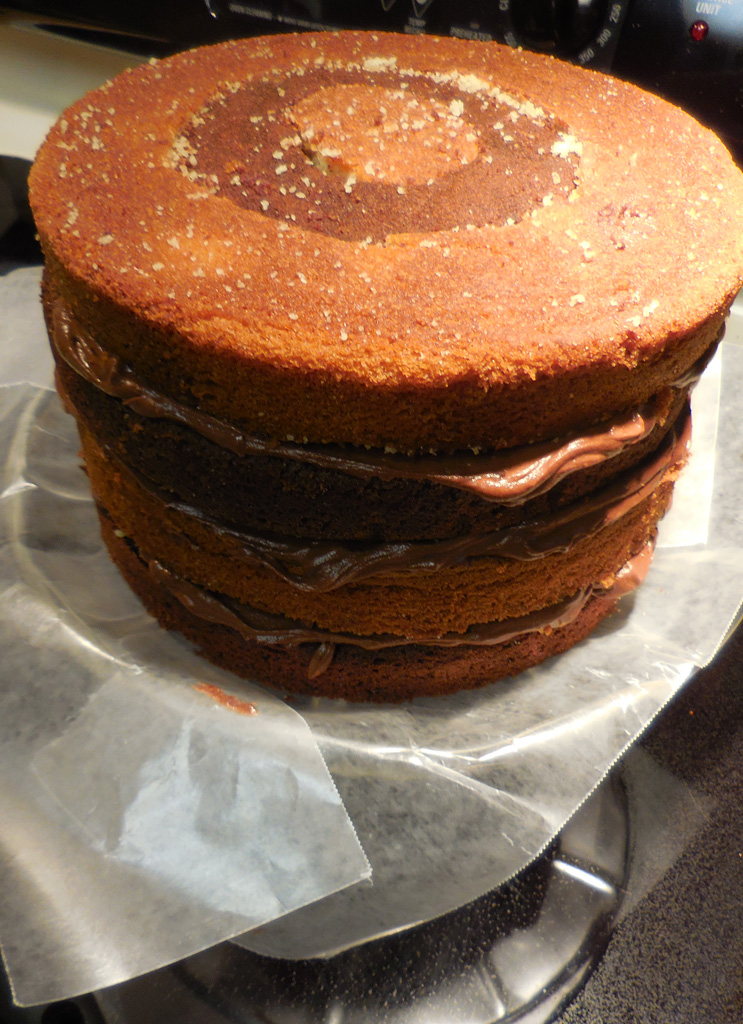 And frost. My go-to chocolate icing is also from Smitten Kitchen, and can be found here. (Note: I do not use a food processor, but my stand mixer. I did use the food processor the first time I tried the recipe, but as the frosting got stuck in the lid groove, I decided that was nonsense; any mixer you have will be quite fine if you don't want frosting in every crevice of your food processor.)
My biggest worry was that the cake would fall apart when I cut it–but after a couple hours in the fridge post-frosting, all was well. And delicious. And Wonderlandy.